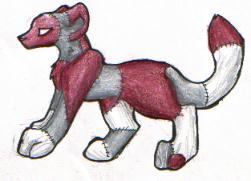 Name: Ta'om the great
ID: Di033
Gender: Hermaphrodite
Size: Standard
Type: Teddy
Rank: Carnival Prize
Genes: S,Cr,Cw,Cg*,T,F,m
Personality: Ta'om is brave and has a cold heart. He\she is very much more like a boy but does not hide it's gender. It also perfers to be called a he since that is how it acts more. Though he probaly coud reproduce. Ta'om would not ever fall in love because he is scared of his gender and how the other di will react if it didnt know ta'om was a hermaphrodite. Ta'om is'nt looking for a collection because it is sure he will be in abaemos's collection. He\she's favorite food are decomposed apples or pears. He\she is not fond of any meat at all.